CHARLOTTE, N.C. (QC Life) - We've enjoyed a few spring-like days this week.
If you're looking forward to the change in the seasons, we have the perfect way for you to get into the mood with some tasty dishes.
You might know her as the Petite Cook Charlotte. Chef Yvette Kerns was in the QC Kitchen with her new business partner, chef Mitzi Jackson.
They showed us how to make two delicious spring salads. Here's everything you need to make them at home!
Spring Vegetable Orzo Salad with Goat Cheese Lemon Vinaigrette
Ingredients:
8-ounce box orzo
1 bunch of blanched asparagus tips
1 cup blanched and cut green beans
1 pint grape tomatoes halved
1 finely diced yellow pepper
1/4 cup finely diced red onion
1/3 cup chopped fresh parsley
Prepare orzo per package directions. Rinse with cold water and let drain in a colander for 10 minutes. Mix all chopped and diced vegetables and add orzo, gently tossing together.
For the Goat Cheese Lemon Vinaigrette:
Juice of one lemon
4 ounces of crumbled goat cheese
1/4 cup Extra Virgin Olive Oil
Pinch of garlic powder
Pepper to taste
Salt to taste
It can be served at room temperature or chilled.
Ultimate Mexican Spring Salad
Ingredients:
Corn on the cob
1 cup of romaine lettuce chopped romaine lettuce
1red bell pepper
6 grape tomatoes. Please use grape or cherry tomatoes because they have the best texture
1/2 cucumber, peeled and diced
1/2 diced red onion
1 can of black beans drained and rinsed
1 fresh avocado, sliced
1/2 cup Pepper Jack cheese
Fresh cilantro sprigs
Jalapeño (optional)
Cilantro Lime Dressing Ingredients:
Large bunch fresh cilantro
1/2 cup plain Greek yogurt
1 garlic clove
Juice of 2 limes
1 teaspoon honey
1/2 teaspoon kosher salt
1/4 cup extra virgin olive oil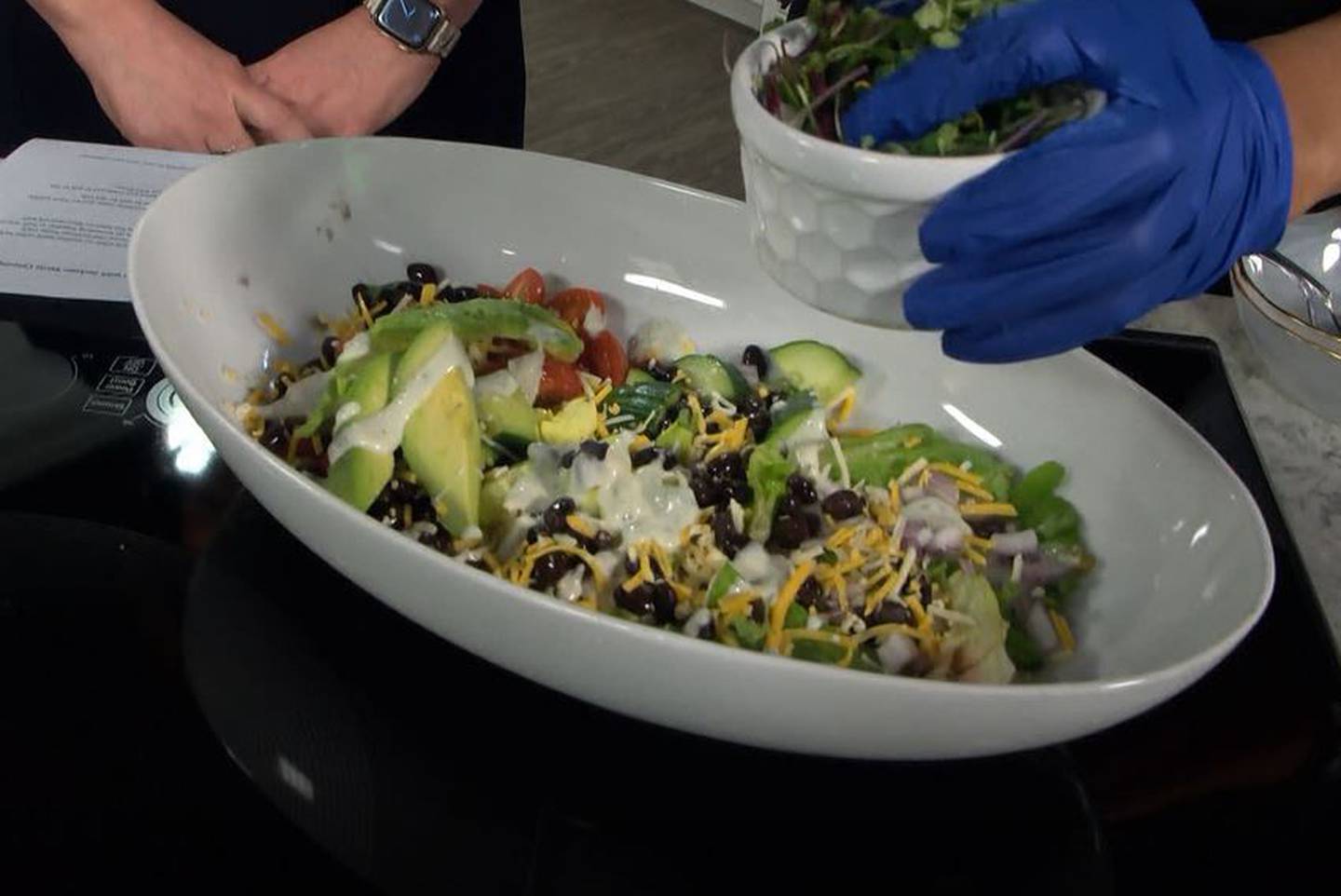 Copyright 2023 WBTV. All rights reserved.